The best foiling hub in Europe
Open all year round!
SURF, SUP, WING, TOW, KITE, WE'VE GOT YOU COVERED!
Learn & ride with us!
WHAT SETS US APART?
For more than 20 years, our dedicated and passionate team has been innovating to make students learning experience more fun, more efficient and safer. We are proud to offer you a bunch of unique high quality services for guests who really want to learn and progress or just enjoy the endless rides foiling has to offer.
Boat assistance for increased safety and more time spent in the water!
We have been teaching from boats for more than 15 years and it is probably the safest and most efficient way to learn foiling. No obstacles nor people around to stress about. No more tiring walks upwind on the beach with the wing in the hand means increased safety and energy conservation! All our water-crafts use jet propulsions, avoiding the inherent risks of fast spinning propellers.
Radio-Helmets: Direct contact and feedback from your instructor.
No more shouting from afar! Radio-helmets allow you to have a clear listening of your instructor, in real time! This teaching tool contributes greatly to make your learning experience enjoyable, safe and more than anything: efficient! Real time feedback on your actions during the lessons is definitely a plus!!!
Learn from your own mistakes!
By mixing video analysis as well as practical advices, you will be able to progress much faster! We will record short videos of some of your key-moments to allow you to review them and learn from your mistakes. We found that people seeing their own mistakes are much likely to correct them more efficiently.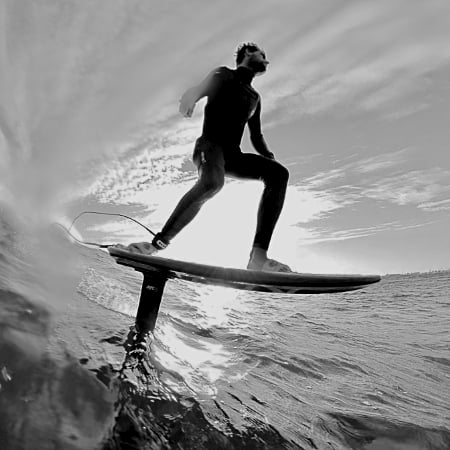 Founder & coach
Since the beginning of surf foiling, Tommy has always believed in the great potential of Fuerteventura as a Foiling Hub: year-round conditions for all the different foil modalities!
Elite Coach
The new standard for waterman: Clément is as confident on a surfboard as on his foil boards! He is always in the water enjoying all kind of watersports! He is part of the French National team of SUP and has recently won the last foiling competition in Britany.
Clement Roseyro
Co-founder
SUP Champ'!
After having won several national and European titles in SUP racing, Martin is opening more and more to all watersports, bringing his experience of high level competition and training to the team.
Martin Vitry
Guest Pro coach
SURF FOIL
Surf in 4D!
We will teach you the basic of Foil Surfing with the help of of jetski/boat. This will save you a lot of time in the learning process, allowing you to only focus on the foil control. Once you can consistently ride on the foil, we will bring you to take your first waves.
Duration: 1h / 2h
Age: Over 10 years-old
Min. level: none
Price: 130€ / 250€
---
Tow-in Foil
The new way to ride swell and waves!
If you already have a good foil control, it is time to try to catch you first waves! We offer an exclusive service of Foil Tow-in, pulling you into the best waves for your level! From small easy waves to barreling slabs for the most adventurous riders!
Duration: 1h / 2h
Min. level: Being able to water-start behind a jetski
Price: 130€ / 250€
---
Wing Foil
The latest of the foil sport!
No more frustration during those windy days! Wing foiling brings a new approach to riding your foil. From the lightest breeze to the stronger winds, wing foiling offers a safe way to sail around lakes, ponds, rivers, seas or oceans!
The Basic course is composed of 2 sessions of 2h in the lagoon to first learn how to handle the wing on big SUP boards, and then move onto foil control with speciafic beginner foils, adapted for you to progress safely and quicky.
The Full course is the Basic course + 3 extras sessions in the lagoon to fast track your learning experience and provide you with all the skills and knowledge to go and practice on your own.
Duration: Basic: 4h (2 days) / Full: 10h (5 days) / Private: 2h
Age: Over 12 years-old
Min. level: none
Price: Basic: 195€ / Full: 475€ / Private: 190€
---
SUP foil
If your sport is SUP and you want to try to add a foil under your board to ride further, we can help you with that! We will bring you to the best SUP foil spots to slowly learn how to take-off and fly!
Duration: 2h private
Age: Over 12 years-old
Min. level: Confident taking waves in SUP
Price: 120€
---
---
Foil Gear for sale & rent
We work for some of the industry-leading brands to offer you the best equipment possible, available for rental, test, and retail.

MFC
Maui Fin Company produce some of the most high-end carbon surf foils! Tested in Hawaii, they offer amazing performances for all kind of riders: wing, surf, tow-in...

Unifoil
Unifoil has been of the fore-front of High-Aspect Ratio foils and we are excited to be the official dealer for the Canary Islands!

KT Foil Boards
From Hawaii as well, the well-know shaper of Kai Lenny is offering a wide range of boards for foil surfing and wing foiling.
and many more...
We also work with Naish, Slingshot, Cabrinha, Quattro, Axis...
Why Choose Us?
It just works!
All our experience and expertise to exceed your expectations, bringing you a flawless holiday.
We respect your schedule
We stay flexible and respect your way to enjoy your trip.
We have the magic
You'll feel it too! We love what we do and sharing the stoke is our top priority!
Souvenir makers
We will constantly be behind the lens and in the air, filming and shooting your every moves.
Safety first
We will personally look after your safety and make sure you are covered from every angle.
We're Friendly
We're nice people, foilers providing for foilers ;-)